Hand Picked Surgeons
We have selected only the best surgeons.
Each of our surgeons, dental and cosmetic, is hand picked of course, and extremely skilled, but they are all interesting and engaging individuals too! Read on to learn a little more about the people behind the excellent service.
Renata
Renata is a charming woman who I chose to work with as she struck me as being a highly professional surgeon who has a great eye for detail and artistry. She is a perfectionist who will not let you leave the clinic until she is completely happy with the work she has done.
Her position as a senior lecturer in implantology at Szeged University means that she is always up to date with the latest dental techniques and equipment. She also attends several global training courses a year to ensure she can provide cutting edge solutions in complex situations. For this reason many dentists in Budapest and beyond refer their complex clients to her.
She is highly aware of current concerns in dentistry and offers metal free Champion implants and BPA free fillings. Renata is also qualified to place implants where there is minimal bone and many of her referrals are for this reason. She uses Megagen implants in a novel way, placing them in a hole smaller than the diameter of the implant. This pushes the bone away producing a much denser and stronger bone around the implant to hold it in place. Another advantage of this technique is that less bone needs drilling out resulting in less pain.
Renata does not cut corners, she recommends the best solution for you and your particular situation. There will always be dentists who can treat you cheaper than her but no one will offer you her skill and such an affordable cost. She is also extremely busy and I will only ask her to spend time formulating treatment plans for clients who understand and respect that they are getting the best not the cheapest.
Gabor
My first impression of Gabor was that he was disinterested and confused, how wrong I was! He is a shy man who who spends the consultation in deep thought, listening to what you have to say and coming up with a suitable treatment plan surprisingly quickly. The truth is after placing over 100,000 implants in the past 25 years there is not much he has not seen and he makes planning look simple.
Every aspect of his clinic has been set up with the convenience and comfort of the patient in mind. He founded the clinic with his business partner who owns a dental laboratory so that preferential rates and turnaround times are offered to patients at his clinic. Most notably though he has considered those of us who are terrified at the thought of going to the dentist. He has a number of anaesthetists working for him who offer both sedation and general anaesthesia. His dental assistant, Judith, speaks fluent English and acts as a translator. The clinic itself is located between a Metro station and a 4 star hotel where discounted rates are offered.
His innovation and caring for his patients has led him to design his own implant line, Cortiplant, which will be launched in March 2019. He is a bit of a celebrity in Hungary frequently appearing on Television to comment on dental treatment and hygiene. However, even with his knowledge, expertise, innovation, business acumen and celeb status he is an extremely humble man who has one thing on his mind, how can I improve the patients situation as simply as possible without causing unnecessary distress.
He is a very hard working man who can see his first patient at 7:30 am and finishes at 8 pm. He relaxes by going on runs before work and competes in international marathons. He is a family man who enjoys spending his evenings and weekends with is wife and six children.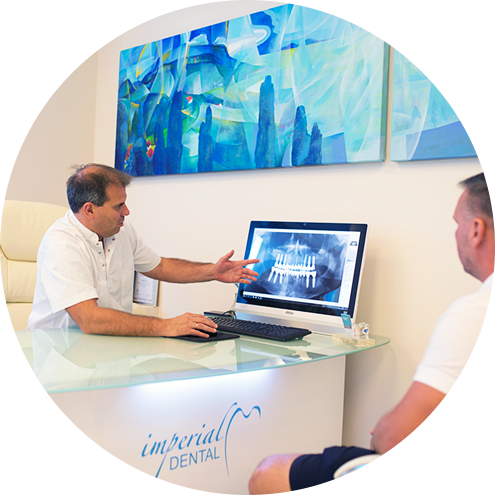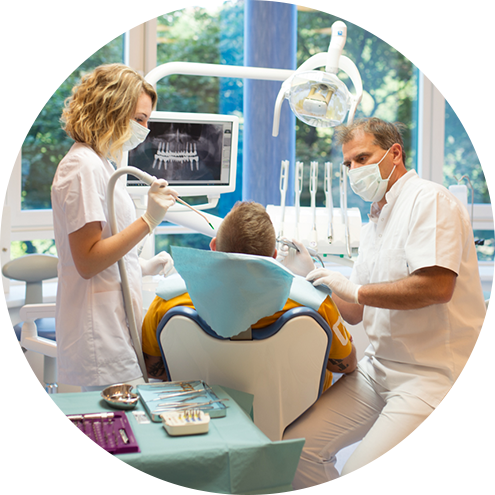 Frank
I describe Frank to people as 'everyone's uncle'. He is an extremely kind and gentle person who takes time to understand your situation and then formulate a suitable plan. His sensitivity to others is reflected in the fact that he has invested a great deal of money in making his clinic both luxurious and comfortable, guaranteed to relax even the most anxious of patients.
Frank is an enormously intelligent man qualifying as both a medical doctor and dental surgeon he also speaks a number of languages including Russian, Spanish, German Portuguese, Slovakian, Hungarian and English. He is a practical man who will take your age, lifestyle and medical history into account to formulate a plan which will be robust and last several decades. His signature treatment are 'telescopes' which are hugely popular in Germany. Telescopic bridges are an alternative to having implants, the existing teeth are shaved and coated in metal and then another crown is put over the top and this stays in place by the vacuum created.
Not only is Frank's clinic so gorgeous that I could live in it , he has invested in modern equipment including a photo studio where clients can view what their smile could look like as well as a machine (KomataBio) to grind down your own extracted teeth to make your own grafting material resulting in a bone growth time of 2 months rather than the usual 3-4 months.
Frank spends much time keeping his skills up to date attending several courses a year. He also spends a lot of time working for various charities ensuring that his skills are accessible to everyone. In his spare time Frank enjoys underwater photography and his past cameras are displayed in the photo studio.
Alper
Turkey, and especially Antalya, is renowned for dental tourism. Many supersized clinics have opened which collect the days patients in minibuses and then take them to a clinic where they are seen by any one of a large number of dentists. The follow up appointments are done by a different dentist and then everyone is back on the minibus to be returned to the hotel. I dislike these factory style clinics so I found a boutique clinic owned by a husband and wife oral surgeon team.
Alper is a real gentleman, a charming and genuine person who makes each client feel special and cared for. If you have elderly loved ones travelling on their own then Alper will care for them like his own ensuring they are OK in the hotel as well as when in the clinic.
Alper values the dentist patient relationship very highly and he will call you before you make your final decision to come and will also call you after you return to check on your recovery. He will also give you his personal mobile number in case you have any questions in between these times.
He, or a private taxi will collect you from the airport and take you to your hotel and you will be collected for each appointment by taxi. There is no waiting a couple of hours at the clinic while the others in the minibus are seen first!
Both attend several global training courses a year ensuring that they are up to date with the latest advances in dental procedures. They are cautious in their work placing additional implants in case of an implant failure. Their cosmetic work is also of a very high standard and there are many photographs of their work on the clinic walls showing that they can make teeth look both glamorous and natural at the same time.
Josef
Josef is a pleasant man who will treat you as a partner through the process. He is a patient centred dentist who will ensure you have a clear understanding of your situation and the options available. He is also practical and honest and if you have unrealistic expectations he will tell you so. He has a zest for knowledgeable attending many courses and enjoys sharing this with the young dentists he frequently trains. Josef is very accommodating and if you need an appointment on a Saturday he will open the clinic for you, weekend opening is very unusual for Hungarian Dental practices.
He runs the practice with his wife Gabriella, the international patient coordinator and David, an implantologist registered with the Irish Dental Council. I should also mention Judit,the hygienist who can do amazing things with air flow. Forget UK standard hygiene treatments, this is on a whole new level. My advice would be to have this treatment before matching new crowns to your existing teeth or having a whitening treatment.
The bonus of this clinic is that it has a beautiful two double bedroom flat above it which has an elevator straight into the clinic. This means that if you need sedation and are travelling alone then this is the place to go. If you want to combine dental treatment with site seeing then this clinic is in the perfect location, just a stroll from St Stephen's Basilica. More importantly it is just walking distance from Chez Dodo, my favourite macaroon shop in Europe!
Gabriella will coordinate with us to ensure your trip and treatment go as smoothly as possible. She will arrange a private taxi to collect you from the airport, all you need to do is WhatsApp the driver, Robert, when you come out of arrivals and he will pull up outside. Staff at this clinic speak Spanish, French, German and English.
If you only need a few implants, crowns and bridges, want to be treated as an individual, enjoy the sites of Budapest whilst staying in a gorgeous apartment then I would suggest that Josef is the dentist for you.
Zsolt
Charming, sensitive, professional, this is what I thought when I first met Zsolt. When I saw photographs of his work I discovered that he is also a perfectionist and an artist with a keen eye for detail.
Zsolt is a highly skilled surgeon and holds the position of head of department at a large hospital in Budapest. He is also an examiner for the European Board of Plastic Surgery. He specialises in carrying out multiple procedures at the same time so e.g a breast lift with a tummy tuck and liposuction. This greatly reduces the theater and anaesthetist charges meaning more affordable treatment for you. To have a surgeon of this caliber in the UK would be very expensive and he should only be compared to the very best in the UK. Incidentally, dont be under the illusion that a doctor has to be well qualified to work in Harley St, the only criteria is that the doctor pays the rent, which of course he doesn't, you do!
Zsolt's method of surgery means that recovery times are greatly reduced. Most of his clients can have surgery on a Monday and are sight seeing on a Tuesday! You can opt to have your procedure at his private clinic on the Buda side or in the private wing of his hospital in Pest. I would suggest to choose the hospital for two reasons, firstly it's more economic and secondly there is an emergency room available just in case. The rooms in the hospital are large and have two single beds for you and a carer.
Zsolt, and his assistant, who is also a plastic surgeon work together to produce beautiful results whether the procedure is a thread lift or a Mummy Makeover. If you want a top surgeon to give you the face and body of your dreams at an affordable cost in a safe environment then Zsolt is the surgeon for you.
Yilmaz
Yilmaz is the most charming and sophisticated of gentleman you could hope to meet. He is sensitive, discrete and professional. He takes a holistic view to surgery taking account of the whole body and not just the procedure area.
Yilmaz speaks little English and his English speaking assistant, Aysel, translates for him. I had expected communication to be difficult but they work so well together that conversation flows like a well rehearsed dance.
He has a large clinic in Antalya where hair transplants, laser treatments, Botox, fillers and Silhouette Soft is undertaken. Surgery requiring general anaesthetic is carried out in a nearby large hospital where an emergency room is available.
Whether you are having a large or small procedure Antalya is the perfect place to go. There is something for everyone, pubs, clubs, relaxing beaches, exhilarating white water rafting, opera and concerts and the most delicious food in the world. If you find getting around towns difficult then you can get a taxi everywhere, they are very affordable and safe. There are plenty of 5 star hotels on the beach front or boutique guest houses in the Old Town, Kaleici. If you are travelling alone, this is the destination for you, there will be many people in every hotel there for the same reason as you and you will soon make friends.
Top Tip. The Turkish Lira is currently very weak so take advantage of this while it lasts!
Don't Wait Any Longer. Start Forging Your Own Path Today!